Release Date: December 19, 2013
Book 2 of the Second Chances Series
From the Amazon bestselling author of No Reverse comes a moving story about love, redemption and what happens when life switches to fast forward.
Cassie learned the hard way: Love forgives… in the end.
In No Reverse, Josh and Cassie's epic love story went from the brink of destruction to a fragile new beginning. Now they must mend their broken family and win back the son they gave up five years ago.
But second chances need to be earned and the road ahead is rocky. With Cassie on tour and Josh trying his hand at a political career, the struggle becomes clear. When the adoption takes a bad turn, Cassie and Josh are prepared to give up everything for the fight of their lives.
Will this young family finally heal the years of heartache, or will they be torn apart for good?
**There is no cliffhanger.**
Wanna know how Marion sees Josh and Cassie, and who she thinks resemble them the most?
Author's Take on Josh from Fast Forward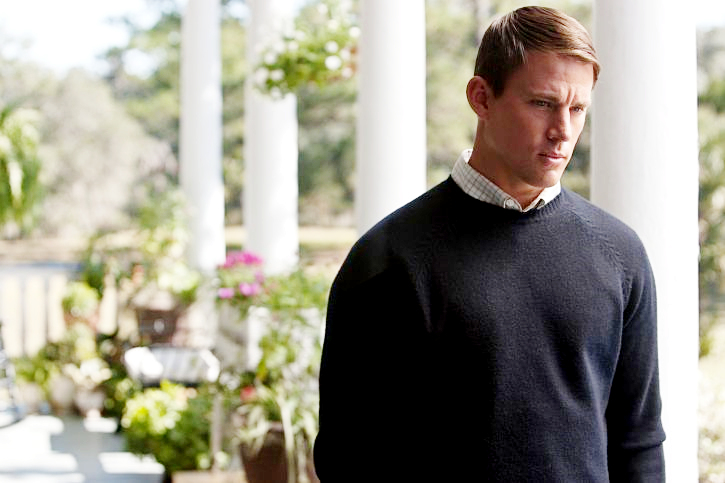 Credit: Channing Tatum as John Tyree in Screen Gems' Dear John (2010)
I like 'good boys'… because when they do something bad, it feels even naughtier. Josh is my dream boy: Coca-Cola eyes, cute dimples, and a deep, mellow voice.
If I had to find a tagline for him, it would be "American sweetheart with an edge." He is highly intelligent and does something about it by going to Georgetown then Oxford. He used to be a quarterback in high school and still has the bod' to prove it! But, more importantly, he is a decent guy who wants to be a good husband and a good dad. Josh is strong but flawed: a flaming temper underneath the cool exterior. I love that about him!
In No Reverse, many readers fell in love with the teenage version of him, but he was more difficult to 'get' later on. When Cassie bursts back into his life, he is tough on her, almost cruel. I was just trying to be true to him. He is broken—very successful with a bright future, but still broken. He doesn't welcome Cassie with open arms and struggles to figure out how he feels about her. Any other way wouldn't be realistic.
Fast Forward is the opportunity for him to open up again and reconnect with the boy he once was, while being very aware of his new responsibility toward his wife and his son. One thing I respect and admire in Josh is how supportive he is of Cassie's dreams. Early on in the book, he tells her: "You shouldn't have to sacrifice who you are to love me." He always pushes her to go after what she wants.
Author's Take on Cassie from Fast Forward
Credit: Julianne Hough on MTV artists.
I feel very sorry for Cassie because she got some serious heat. And it is all my fault! I read on Goodreads a reviewer saying Cassie was one of the most unlikable characters she had ever read. Poor Cassie, that must hurt!
Most of the controversy of the books revolves around the choices Cassie makes. Would I have made the same choices? Maybe or maybe not. But that is not the point because I can understand WHY she made them. She stayed true to herself from the start to the end and that is what matters to me as a writer.
Cassie's story deals with some sensitive issues for women, in particular our rapport to motherhood. As a romance reader, I get sometimes a bit frustrated because there is hardly any book dealing with abortion or even a girl giving up her child for adoption. That is not always very realistic… One of the most touching emails I have received was from a reader who had given up her baby when she was sixteen. She never felt worth finding love after that because of the guilt she carried in her heart. But she told me that reading No Reverse gave her hope she would get a second chance at love too, like Cassie.
That said, Cassie has some growing to do and, I hope, readers will love her in Fast Forward. She becomes more self-aware and the rapport she builds with her son made my heart melt.
"Okay," Shawn answered. He took the duffel and the guitar from Josh. "Say your goodbyes and we'll be off." He disappeared inside.
I climbed one step, which brought my eyes almost to Josh's level. "So this is it." Oh God, no crying, no crying, no crying. I pursed my lips and locked my jaw.
"Make the most of it, Cass." His mouth caressed mine. It wasn't enough but any more and I would come undone. "With some luck we'll see each other in D.C. in three weeks and then next month here again to see Lucas."
I started to turn around and climb the stairs. The strength of his grip on my wrist startled me. In a flash, his palms cupped my cheeks.
"I won't let you get away, Cass. Not again. I made the mistake twice. I believed the worst of you. I didn't fight for you."
"It's okay, Champ. It's the past—"
"It'll never be okay. You are worth fighting for. You are worth dying for. And you are certainly worth living for. I'll go after anything or anyone standing between us like a fucking Rottweiler."
He kissed me and it felt like he was stamping me with his love. My legs threatened to give way. He stood back and I climbed one step backwards. The automatic door shut in front of me.
I lifted my hand and waved at Josh. I must have looked like the poor kid who'd lost her mom in the mall. I heard whistles coming from the cabin of the bus but I didn't give a damn.
My lips shaped the words I hadn't said to Josh for so long. I didn't want to say them out loud. Not because of the guys making fun of me, but because there were only mine and I didn't want to share them with anybody but Josh.
I.
Love.
You.
Giveaway!
•
(3) Print copies of Fast Forward and swag – International
•
(1) $30 USD Amazon Gift Card – International
•
(1) $20 USD Amazon Gift Card – International
•
(1) $10 USD Amazon Gift Card – International
a Rafflecopter giveaway
Release event organized by: