Release Date: June 24, 2014
Rusty Nailed
by Alice Clayton
Book 2 of the Cocktail Series
WALLBANGER
had been such a pleasure to read. I'll never tire of saying that from the first to the last page, I laughed so much while reading that book. That's why I was very excited when I first heard about
RUSTY NAILED
.
As sequels go, this one is really wonderful. It showed the difficulties couples face a year after an incredibly romantic—and in this case funny and unconventional—beginning to their love story. By the end of WALLBANGER I had thought of some things that Simon & Caroline might have issues with in the future. Naturally I was so giddy to find out I was right about some of them! Here's the cheat sheet: career, living arrangements, friends, Clive, and the one thing that couples in love naturally begin to think about after a year of being together without killing each other (and if both have stable jobs): tying the knot.
Actually, the last one wasn't such a big issue. It was just referenced and the rest were much bigger concerns. I just had an evil moment of glee when I read Caroline's panic at the mention of her and Simon getting married (bwahahahah! I just really found it funny!). It's not that they're not truly in love, just that it's not yet the right time. Let's face it, any woman would want to have Wallbanger to herself for as long as possible!
Basically, Alice Clayton brings us to the "what comes after the HEA" without turning maudlin, creating angst or stomach-turning conflicts for the H/h just to spice things up. That's why I really like this sequel. The problems and arguments Simon and Caroline went through were exactly the kind of things fans would expect them to have. Even the way they dealt with those problems, everything fit in the fun wavelength that these two characters shared in book 1.
I liked both Simon and Caroline more after RUSTY NAILED. Caroline is such a Superwoman! With everything heaped into her plate, it's a wonder she didn't have a major breakdown and take off several people's heads. With Simon, I loved seeing him be more laid back. This is a good thing, honestly, because he balanced out Caroline's incredibly hectic career life. What I loved most about him was that he was the first to propose "the next step" in their relationship. It showed how he is dedicated to Caroline, and how secured he is that she is the one for him even if they're not talking about marriage yet!
As for their friends…! Hahaha! They're just as wacky as before. For a moment there I was nervous that I might have to unlike one. Thank God that was settled! I really loved reading the gang's text messages to each other (Wallbanger fans would be familiar with this). They're really funny, and they give insight on what the characters are really feeling/going through at the moment.
Oh and another favorite thing! Clive! =D Ever the scene-stealer, he is the cleverest, wittiest, funniest cat ever. It was incredibly clever for Alice Clayton to have created this feline Casanova!
Although I didn't laugh as often as I did in
WALLBANGER
, this book is still a very good read. It's great follow-up that will assure you that Caroline and Simon are in a wonderful place :). If you haven't read book 1 yet, go and get it! You won't regret it, I promise.
Then
you can go ahead and proceed with
RUSTY NAILED
. =D
Synopsis:
In this sequel to Wallbanger, the second book in the Cocktail series, fan favorites Caroline and Simon negotiate the rollercoaster of their new relationship while house-sitting in San Francisco.
Playing house was never so much fun—or so confusing. With her boss on her honeymoon, Caroline's working crazy long hours to keep the interior design company running--especially since she's also the lead designer for the renovation of a gorgeous old hotel on Sausalito. So with her hotshot photographer boyfriend gallivanting all over the world for his job, she and Simon are heavy-duty into "absence makes the heart grow fonder" mode. Neither has any complaints about the great reunion sex, though! Then Simon decides he's tired of so much travelling, and he's suddenly home more. A lot more. And wanting Caroline home more, too. Though their friends' romantic lives provide plenty of welcome distraction, eventually Caroline and Simon have to sort their relationship out. Neither wants "out of sight, out of mind," but can they create their own happy mid-ground cliché?
USA TODAY bestselling author Alice Clayton delivers another delicious, frothy cocktail of a book, shaking up her characters, stirring in laugh-out-loud humor, and serving sizzling romance straight up!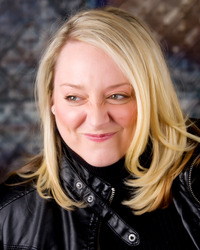 Alice Clayton is a novelist with an unholy love for her KitchenAid mixer. Making her home in St Louis, she enjoys gardening but not weeding, baking but not cleaning up afterwards, and is trying desperately to get her long time boyfriend to make her an honest woman. (Hi sweetie!!)
After working for years in the cosmetics industry as a makeup artist, esthetician, and national educator for a major cosmetics company, Alice picked up a pen (read laptop) for the first time at 33 to begin a new career, writer. Combining her love of storytelling with a sense of silly, she was shocked and awed to be nominated for a Goodreads Author award in 2010 for her debut novels, The Redhead Series.