Release Date: August 18, 2014
Indiscretion Volume 2
by Elizabeth Grace
Fraternizing with the competition? Check.
Risking everything I'd worked so hard for? Check.
Mind-shattering orgasms? Double check.
Max Richfield made me forget myself. Forget all the reasons why I'd chosen to be alone for so long. I had goals. I needed stability. He brought chaos. I'd taken years erecting my walls. And with good reason, I would soon discover.
Now my inability to see beyond Max's charm could cost me everything.
Release Date: September 1, 2014
Indiscretion Volume 3
**synopsis still to come**
Release Date: September 15, 2014
Indiscretion Volume 4

**cover and synopsis still to come**
Be sure to check out the first volume of this series!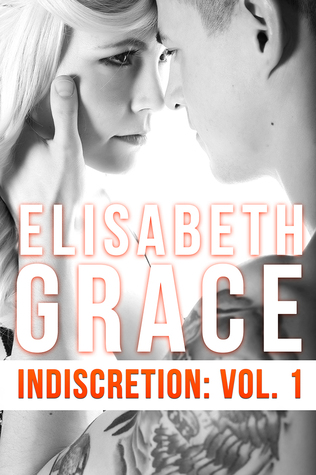 Indiscretion Volume 1
F*ck and chuck. Pump and dump. Hit it and quit it. One night stand. Didn't matter how I branded it—that's all she had wanted it to be. That much was clear when she left me with my pants down and my dick still out.
What she hadn't counted on was fate intervening and our worlds colliding—again.
The day I showed back up in the life of Chloe Griffins, I knew I had to have her again. My body was hungry for another taste. Like an addict, I'd been craving another hit for months, and there she was—flesh and bone, tits and ass.
The fact that she worked for the competition should've been reason enough for me to leave her alone. I had a job to do that summer and f*cking Chloe wasn't part of it. But I was like a man possessed.
I'd do whatever it took to have her again.
I have a soft spot for romance novels with happily ever afters and a hot spot for alpha males! I currently live outside Toronto, Canada with my hubby and two small children. Life is busy, but never to busy for a good story and to share my love of reading and writing with others.
Website | Facebook | Twitter | Goodreads | Pinterest | Google+ | Instagram
If you're US based and you want to receive a text message when Elisabeth has a new book go LIVE, text ROMANCE to 313131!