Synopsis:
From New York Times Bestseller Pepper Winters comes the highly acclaimed USA Today Bestselling Series: Monsters in the Dark.
Included in the following edition are:
TEARS OF TESS
"My life was complete. Happy, content, everything neat and perfect.
Then it all changed.
I was sold."
Kidnapped. Drugged. Stolen. Tess is forced into a world full of darkness and terror.
QUINTESSENTIALLY Q
"All my life, I battled with the knowledge I was twisted... fucked up to want something so deliciously dark. But then slave fifty-eight entered my world. "
Q may be a monster, but he's Tess's monster.
TWISTED TOGETHER
"After battling through hell, I brought my esclave back from the brink of ruin. I sacrificed everything--my heart, my mind, my very desires to bring her back to life."
Q gave everything to bring Tess back. In return, he expects nothing less.
**Not recommended if you don't enjoy dark romance, angst-filled plots, and BDSM.
My Series Review: ★★★★ 4 stars
Oh gosh, where to start... This series has definitely tested my limits. I normally shy away from dark romances because it always feels like I'm about to take more than I can really handle. I've actually had the first two books in this series in my kindle since last year, but it wasn't until last month that I finally, finally read them.
A reader has to be in the mood for a dark romance and set aside a long reading time for it because stories in this genre can really drain your energy. For those who do not regularly read dark romance, give yourself a week or more to finish this series. In my case, I needed a day to recover in-between books!
TEARS OF TESS, QUINTESSENTIALLY Q and TWISTED TOGETHER are definitely not for the weak of heart (and stomach). A reader who has read nothing but Nora Roberts or Carly Phillips, for instance, will surely be very shocked if they jump into this series right away. The writing is very good and very effective at sucking readers into very awful places and situations. I for one had to take lots of breaks because the material can get really, really heavy.
What can one expect from this "dark romance" series? There is romance, yes, but it's not the sweet, flowers, chocolates and ferris wheel rides type of romance. The love that grows here is rooted from very dark, very cruel situations. As the synopsis for TEARS OF TESS indicates, Tess is abducted and sold by a sex trafficking ring based in Mexico. With this premise alone, Pepper Winters brings readers into very dark and cruel places.. some of them I almost couldn't even stomach (hence the frequent breaks!). Add to that the character of Q Mercer, an anti-hero who has darkness hidden and repressed inside of him. He is not the type who will sweep the heroine off her feet with sweet words and kind gestures, yet he is the man Tess chooses.
I'll now go briefly into my impressions of each book.
TEARS OF TESS
Pepper Winters sets up the story very effectively in book 1. You can really feel the Tess's despair. What started out as an ideal lovers' vacation in beautiful Mexico ended in a nightmare.
One of the most important functions of this book for me is to show the
before
Tess and the
after
Tess. The two of them are very different, and this is even more obvious in book 3.
It's a good thing that I'm already aware what a dark romance usually entails because Q did not really impress me romantic-wise. He was too mercurial, too intense, too confusing... just,
toooo everything!
He lacked that gentleness that most fictional alphas have when interacting with their heroines. If anything, he becomes more intense when he's with Tess. This was something I really had to adjust to. In the other dark romances I've read before, the heroes experience varying degrees of transformation (some do a complete 180, others just mildly so) as their stories progress. They become gentler towards the heroine, for example, but that does not happen here. Q actually behaves the opposite way (there's a very good explanation for this though), and this is very obvious in the next two books because we see him interacting with other women victims like Tess.
TEARS OF TESS has a happy-for-now ending. Not all questions are answered, so anyone who reads it without knowing it is the first in a trilogy will immediately know there's more to Tess and Q's story, and that it doesn't end here.
QUINTESSENTIALLY Q
In this book we finally get to hear Q's voice. It's dual-POV this time, which does two terrific things: One, we get to know Q more through his thoughts and emotions. Two, it heightens the excitement during the second half of the book. There are parts where the reader is placed firmly in Q's shoes: not knowing what is happening at times, being extremely worried for Tess's well-being, waiting anxiously for good news, and just sitting in tension and waiting and
praying
for something to happen.
Notice how I'm trying so hard not to reveal a spoiler there!
The synopsis doesn't really give you much about what happens in this installment, but take my word for it: you'll be hanging on to the edge of your seat. If you thought TEARS OF TESS was intense, this is three times more intense. For me, it was all at once enlightening, annoying, heartbreaking, disgusting, terrifying, and exciting. You cannot not read QUINTESSENTIALLY Q once you've finished TEARS OF TESS.
TWISTED TOGETHER
Naturally, you cannot read books 1 and 2 and not read the final book! It's not just about tying up loose ends, too. There is more that Pepper Winters has in store for readers here in TWISTED TOGETHER. If the second book is three times more intense than the first, well, consider the third installment five times more intense!
I honestly thought Tess and Q had already been through the worst in QUINTESSENTIALLY Q. Apparently that wasn't it yet! Oh no, Ms. Winters had been hiding the big guns and she let them all loose in this final book. Again, the synopsis doesn't tell readers much plot-wise. One thing is certain though: after the events in the previous book, it is more than obvious that Q is not as invincible and untouchable as he thinks he is.
And that's all I'm going to say about the plot! Trust me though, it brings Tess and Q's story in full circle. All questions are finally answered, all possibilities, angles and what-ifs are explored. I was surprised at how exciting the book turned out to be towards the end. I found it even more blood-pumping than book 2, which is saying something. TWISTED TOGETHER also fed my bloodlust. Ooooohh yeah.... gory scenes usually ick me off, but when they are in the name of rightful revenge? Bring. It. On. I would even cheer.
TWISTED TOGETHER really gives justice to its title and the title of the entire series. Tess and Q are truly twisted together. They are two monsters in the dark. They are good people with good intentions for others and for each other, but they also have a darkness in them that begs to be let out in certain occasions.
***************
I'm giving this series 4 stars on average because it is written really well. I reacted so strongly to some scenes. This series put me in a funk, actually! I couldn't bear to pick up my kindle days after, I needed plenty of recovery time. I didn't necessarily love all the characters and I certainly didn't love so many awful scenes! The books strongly affected me, nonetheless, and if that's not a sign that Pepper Winters is a very effective writer, then I don't know what is.
What prevents me from giving the series solid 5 stars though is that there are many, long chunks of introspection and personal thoughts in books 2 and 3 that just made my head ache. I'd mentally float. I skimmed several times because I just wanted to find out what happens next. Q and Tess also confused be soooo many times. They could literally go from "I love you," to "this won't work, I have too much darkness in me," and then back again, and ten times more, in just five pages. It felt like that, anyway, and it was eventually annoying.
In spite of several things I disliked in these books, Pepper Winters is still one of my Top Authors for dark romances. I absolutely loved another one of hers, a semi-dark romance though: DESTROYED. That one gutted me! I just loved it. But it was this series that made her a so many people's favorite in this genre. TEARS OF TESS was her first book! Considering the plot and the quality of the writing, and that after just one book she was immediately placed in everyone's favorite authors lists? What a feat, honestly.
Here is one author you should try if you want to give dark romance a try. Here is one series you should certainly read if you enjoy dark romances. This is the series I recommend if you'll ask me for something challenging, daring, and evocative.
Buy Links
Series Ebook bundle
Individual Buy Links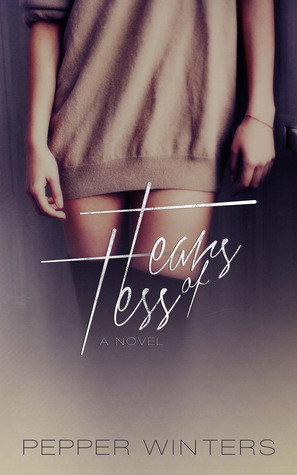 Book 2:

Quintessentially Q
About the Author
Pepper Winters is a NYT and USA Today International Bestseller. She wears many roles. Some of them include writer, reader, sometimes wife. She loves dark, taboo stories that twist with your head. The more tortured the hero, the better, and she constantly thinks up ways to break and fix her characters. Oh, and sex... her books have sex.
She loves to travel and has an amazing, fabulous hubby who puts up with her love affair with her book boyfriends. She's also honoured to wear the IndieReader Badge for being a Top 10 Indie Bestsellers, best BDSM series voted by the SmutClub, and recently signed a two book deal with Grand Central. Her books are currently being translated into numerous languages and will be in bookstores in the near future.
My thanks to the author, the publisher, and As The Pages Turn for the opportunity to read and review Monsters In The Dark. This series review was meant to be part of a blog tour.